Back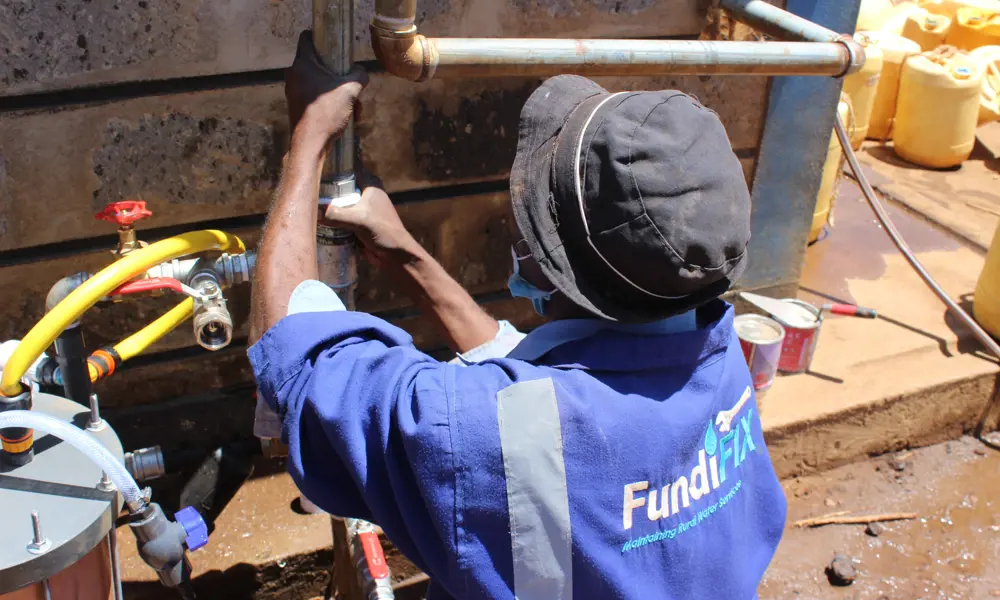 The startup purifying water in partnership with low-income communities
Access to clean water is a fundamental human need, yet hundreds of millions worldwide go without it – particularly in rural areas of low-income countries. Cambridge-based social enterprise Blue Tap has one solution – a low-cost device that purifies water by precisely injecting chlorine into a local water supply.
According to the World Health Organization (WHO) and Unicef, 10% of the world's population still lacks access to basic drinking water facilities. "For me, it feels so fundamental to quality of life to have good water and sanitation," says Dr Francesca O'Hanlon, CEO of Blue Tap, and a water engineer by training. "It's kind of the linchpin of wellbeing and socioeconomic development, especially for women and children."
Francesca came up with the idea of a chlorine doser while doing a placement in Mexico City for Engineers Without Borders. She had been tasked with creating an alternative solution to chlorine tablets to make harvested rainwater drinkable.
Chlorine is used all over the world to purify water, killing any bacteria, viruses and parasites present. Tablets are a widely used chlorination method, dissolved in water tanks or reservoirs. However, they don't always disperse chlorine consistently, meaning some glasses are under-chlorinated and others are over-chlorinated, running the risk of infections or an unpleasant taste in the water.
Francesca decided to build a doser: a device able to automatically inject small quantities of chlorine into a water system. She went DIY for her solution, building it with bits from the hardware store. It was fiddly and took about three months to get the exactly the right parts, but she ended up with a working prototype.
Shortly after, Francesca put the idea aside, as she went to work for Médecins San Frontières (MSF). But she had reason to think about chlorine dosers again quite soon.
There was a cholera outbreak in the hospital in South Sudan where she was working, so Francesca had to order a commercially available chlorine doser. "It was really, really expensive – I think it was about £1,500," she says. "So, I thought, OK, there is really a need for low-cost chlorine dosers."
Prototyping with 3D printing
Following the stint with MSF, Francesca went to Cambridge for her PhD, focused on water security and climate risk. By then, 3D printing had become widely available, with a lab at Cambridge that students could use. Francesca realised that this rapid prototyping approach could really help to accelerate the doser's development.
In 2017, Francesca co-founded Blue Tap together with two fellow PhD students, Tom Stakes and Becky Donaldson – respectively, Blue Tap's Chief Technical Officer and Chief Innovation Officer. They started prototyping in the 3D printing lab. "We could design a prototype, print it and then test it that evening, and that made such a big difference with the rate of progress," Francesca says.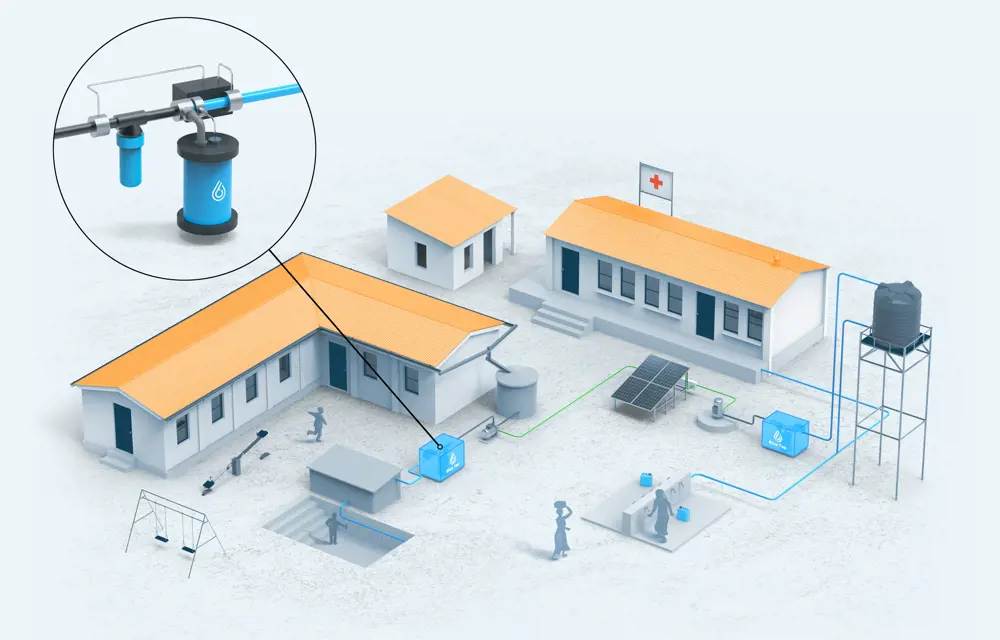 The doser Francesca built in Mexico, that the team continued to develop, used the Venturi principle. This effect occurs when a fluid such as water flows through a pipe and the pipe is narrowed, causing the pressure to decrease (although the flow rate increases – as in when putting your thumb over the end of a garden hose). If a pipe with a second fluid adjoins the constriction (often at a right angle to the first pipe), this negative pressure can then draw some of that fluid – chlorine, in the case of Blue Tap's doser – into the primary fluid flow.
Tom built on the design with a pressure feedback system allowing much more precise control over the amount of chlorine that's added to the water. He also designed a closed container for the liquid chlorine, as on field visits, the team discovered that the open chlorine reservoirs initially used became home to dead lizards, animals or insects.
After receiving some user feedback in Uganda, the team continued to work on the technology, albeit with a slight slowdown during the pandemic. An Innovate UK grant in 2020 enabled the team to ready the prototype for manufacture.

Working with local plumbers and technicians
Through the University of Oxford's REACH programme, the Blue Tap team got in touch with a Kenyan organisation called FundiFix, which installs and maintains water technologies and water points in local communities. "It was really at that point we started to realise that once we finished developing the technology, we wanted to hand it over to a strong local partner," says Francesca.
"One of the big issues with water technology is that it can just fall into disrepair, especially in rural areas. And then it's just not used at all," she says. According to a 2018 study, approximately one in four handpumps in sub-Saharan Africa aren't working at any point in time.
After FundiFix expressed an interested in installing the doser and monitoring its success with a local community, the team went out to Kenya for a few months in 2021 and installed two chlorine dosers with FundiFix on community water points, training the local team of technicians on how to install and maintain the technology.
After three to four months, they started getting feedback: that people weren't getting sick as often, plus testing showing that the water quality had substantially improved.
A socially enterprising business model
While the Blue Tap team is confident in its engineering know-how and the technology's potential as an effective and inexpensive water treatment device, it has constantly evaluated its role in international development. "We are certain that our strength is not in implementing these projects," says Francesca.
"For us it's been really important to avoid this model of thinking that we've got the answer and we're going to go into countries where actually we don't have much experience and tell people how they should treat their water," she says. "This year, we're in the process of handing over ownership of our dosers in Kenya to FundiFix, and looking at potential partners in other countries as well."
Francesca says Blue Tap wants to respond to requests from organisations who want to chlorinate their water but feel that the options out there aren't good enough. From their point of view, they want to do this without undermining any local enterprises.
"I'm very aware that most of the people I've worked with don't want to be the recipients of charity. They're very empowered people [with] their own lives. They want the opportunities to build their own businesses. That's why we felt like we wanted to provide technology and give ownership [of it] to local teams, and if they choose to sell it or not, that's up to them."
Throughout her career, Francesca has seen first-hand that despite decades of development work, there is still a need for easy-to-use, inexpensive water purification in low-resource environments. This is a niche that Blue Tap aims to fill.
Blue Tap's step-by-step approach will start by getting a few more chlorine dosers installed, and then, once the team is happy with the results, expanding to other countries. "Part of our identity is, as engineers, we want to do things very well. We're quite methodical about it," says Francesca.
With the right partners and funding in place to manufacture at scale, Francesca and her team hope to go from having 10 to 15 units installed, to hundreds of units. "We feel more comfortable providing 10,000 people with really good quality water than millions of people with a sub-standard service."
Late last year, Francesca received the 2022 Smeaton Medal – awarded to early- and mid-career engineers committed to protecting lives while working in challenging environments – in recognition of her determined work with Blue Tap and beyond. Of her win, she says, "I think, for me, I can't imagine being an engineer, especially a civil engineer, and not focusing on society. It's in the name, isn't it?"
Keep up-to-date with Ingenia for free
Subscribe