Back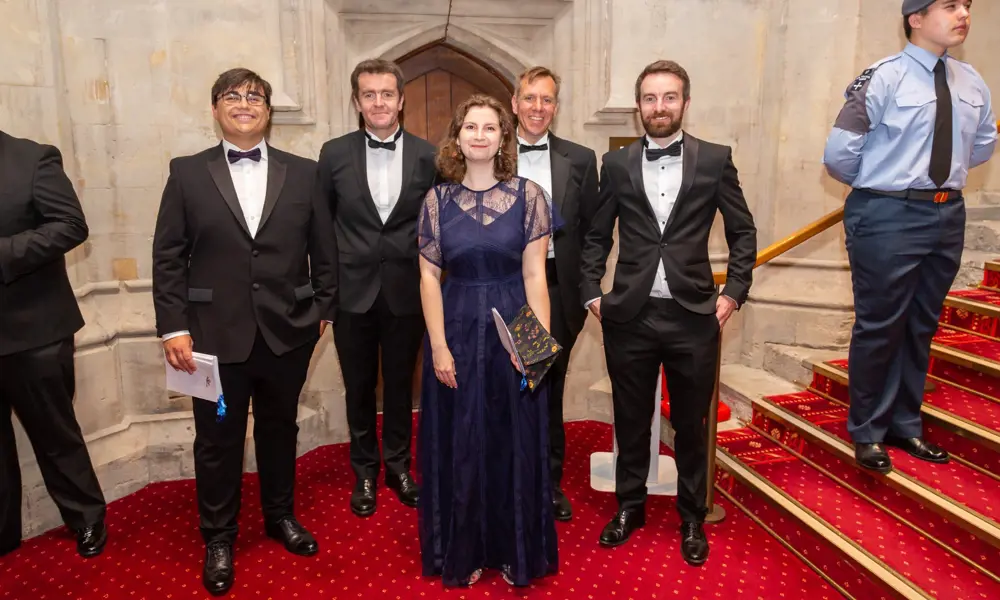 Electrifying trains and STEMAZING outreach
Alex Keeler, a railway overhead line design engineer at Amey, won this year's Baroness Platt of Writtle Award for the most outstanding incorporated engineering application nationwide. Passionate about engineering, promoting STEM subjects, mental health, and health and safety, she tells Ingenia about her career so far.
I was first inspired to be an engineer during work experience at Airbus at 15 years old. I had the opportunity to work with the team on the A380 landing gear test rig to help solve issues with the in-service landing gears. It was here that I discovered a passion for problem-solving and the world of engineering.
I enjoyed science, maths and creative subjects at school, although maths was my favourite, and I enjoyed using formulas to solve problems. Despite not coming naturally to me, I loved physics and reached out to get extra help during lunchtimes. After enjoying the work experience, this helped me choose my A levels as maths and physics were encouraged. I also did biology and German at AS level. I went on to attend the University of Leicester and gained a First-Class bachelor's degree in mechanical engineering. I enjoyed my time at university and got involved with extracurricular activities such as being the course representative and a student ambassador.
Decarbonising the railway
I have been working in the railway industry for six years now. During this time, I've held several roles, including as an assistant signalling design engineer, where I designed speed restrictions and project managed a level-crossing installation project; as a site supervisor, creating and explaining safety documentation and managing a track renewal at a depot; and more. These and others were part of my graduate scheme, through which I was able to get a wide range of experience in different roles over a short period of time.
I love my role as an engineer, it provides me with a new challenge every day. In my current role as an overhead line design engineer, I design the overhead wires and the steelwork supporting the wires over the railway. It's a really interesting area to work in as it provides one of the future solutions to decarbonisation and requires a background in mechanical engineering. Decarbonisation is fascinating to me as it offers the opportunity to improve the future of our planet. Our industry plays a key role, through electrifying the railway and reducing reliance on fossil fuels. We can reduce our impact further by thinking hard about high carbon elements of our work, such as reducing our steel usage and considering the most efficient ways to construct our designs.
My current project is to create Amey's flagship automation software, which will reduce the cost of designing and building railways and help decarbonise the railway. In my role as the technical authority and lead of the automation project, I manage a team of software developers and detail the technical requirements and rules that designers follow. This involves me compiling relationship databases that analyse all the possible combinations from the standard railway drawings. This has been an exciting project that I see as the future of design in the railway.
STEMAZING outreach
I was chosen for the first round of the STEMAZING inspiration programme along with 20 other women in STEM. It culminated in delivering six weeks of activities, which I ran for two schools. These sessions introduced STEM to children at an early age and showcased the variety of careers available in STEM and how exciting it can be. I demonstrated basic principles such as aerodynamics, strength of shapes, density and potential energy. It was a fantastic opportunity to become a role model and deliver these sessions to the schools and have the children engage in the sessions.
I have discussed my career across multiple platforms as I believe it's really important to inspire the next generation of STEM careers, especially bringing girls and women into STEM. Recently, I volunteered to present my career for the Graduate Engineering Engagement Programme and participated in a panel Q&A. The programme aims to increase the transition of engineering graduates from diverse backgrounds into engineering employment. I've also been involved in career panel discussions with colleges and Brunel University and returned to the University of Leicester to discuss my career and encourage current students to pursue a career in STEM after their degrees.
Supporting wellbeing and mental health
Being proactive with areas that interest me has created opportunities in my career. I have led and produced mental health and wellbeing newsletters since the beginning of the pandemic after volunteering to become a mental health first aider at work. What started as a newsletter for my direct team has grown over two years to now be received by 300+ employees each month, giving people across the company easy access to information that can help them in their daily lives. It's given me the platform to present at business-wide town hall meetings on subjects such as mental health and wellness and given me a national network. This visibility has recently been awarded with the Amey A* award for Safety and Wellbeing.
Having the opportunity to share my career experience to date in my incorporated engineer application, for the Baroness Platt of Writtle shortlisting and presentation, and now in this blog is such an honour.
Keep up-to-date with Ingenia for free
Subscribe