Back
Q&A: George Imafidon
George Imafidon wears many hats. He's a performance engineer at X44, Sir Lewis Hamilton MBE HonFREng's electric motorsports team; CEO and Co-Founder of Motivez, improving access to STEM careers for young people; and is on the board of the Hamilton Commission, which investigates the lack of representation of Black people in motorsport.
Why did you become interested in science and engineering?
When I was seven or eight and growing up in Peckham, I would often see my friends' bikes rusting in their gardens because the local bike shops were just too expensive. So, I started fixing other people's bikes to get pocket money.
My love of speed led to go-karting around Burgess Park. When that closed down, I said, if I can't be inside the car and race, then I'll be outside the car, helping to build it. I wanted to build and fix things with my hands, so was torn between motor mechanics and engineering. But I realised you could do more than just fix things with engineering; you can design things to (hopefully!) make sure they don't break as frequently.
During my engineering GCSE, I started a Saturday school for engineering. I did the sciences and maths, although I didn't love all those subjects at the time. I just said, I'll roll my way through it, and hopefully that will open up as many doors as possible.
I've always wanted to help people, whether fixing bikes or building products, it's always been about people to begin with. I'm a human that loves engineering; a person first, then an engineer second. That's how I like to see it.
How did you get to where you are now?
One of the biggest reasons why I decided to go to university was because I could get a scholarship from Southwark Council. That and other scholarships meant I didn't have to worry so much about finances and could focus on being the best engineer possible.
I went to study mechanical engineering and programming at UCL. When I arrived, I wanted to join Formula Student [the competition for university students to build a formula-style racing car]. Normally, you get involved in third year, but I said, I need to get involved now, because this was the childhood dream, right? I approached the professor and some of the students, asked them what I could help on. I worked on a brake plausibility device, then in my second year I led the team. In my third year, I applied and got rejected. It was weird to me, not that I felt entitled, but I had so much skin in the game, and they chose someone who had been fixing classic cars, where you probably need a little bit more money to do it, and I didn't necessarily have that.
Alongside doing engineering, it was super important to help other people do the same if they wanted to. I was thinking, how can I do something that goes beyond me? Eventually, my Motivez co-founder approached me in Peckham Burger King, that's where we had our first conversation about it, and the rest is history. I was doing all these activities and games for young people with Motivez, and as I was doing that, I had the mindset that I needed to find another opportunity. So, I went to Rolls-Royce for an internship and redesigned a component that saved them £50 million in R&D. I was like, OK, Formula Student rejected me, but I've still got it!
But when I was applying for Formula One teams, most of them wouldn't get back to me. The ones that did, the hiring processes had a lot of inherent bias. Things like, getting me to build something with Lego. Now that might seem like a very fun thing to do. It is, if you had enough money to buy a Lego set growing up. If not, then it's probably gonna put me at a bit of a disadvantage, right?
So, I just said, I'm gonna keep advocating for people trying to get into STEM, keep creating and the opportunity will come. I had the faith, and when I graduated, I got an email from Lewis [Hamilton], in August 2020 – I thought it was spam! – about joining the board of the Hamilton Commission, because he'd seen my work with Motivez. So, I did, and then I realised that Lewis was setting up a new team and that he wanted to find mechanics and engineers. At Motivez, we had been building up a lot of these people, so I sent a bunch of their CVs.
The X44 team were like, why don't you put your CV in as well? So, I did, and they asked me to come along for preseason testing, and we had a series of interviews to figure out how I could continue doing Motivez and do motorsport – blaze a trail for others whilst helping support others actively. We found an arrangement that worked, and that rekindled my relationship with motorsport. After all of that rejection, here we are.
What has been your biggest achievement to date?
In Year 12, I joined an organisation called the Amos Bursary, which completely changed my life. They supported me massively to get to where I am. I'm still the only person in my friendship group that went to university or even finished A levels – I like to say the Amos Bursary normalised success for me. That allowed me to go for it, be audacious and not be scared to ask for help.
I took a year out of university to raise £1,000,000 for them. The campaign took a big toll on my mental health but was one of the most fulfilling things I've done. I guess that was about so much being given to me – I just wanted to give it back.
What is your favourite thing about being an engineer?
I think engineers are rock stars because they [come up with] a vision and create it, and really make an impact on people's lives and connect us all together. Engineers are at the heart of that, whether it's artificial organs, prosthetic limbs or any of these things. It's great to be one of them... [although] I don't think I'm doing stuff that cool just yet.
And it's fun! This was a dream... to be a performance engineer for Lewis's Extreme E racing team – and Prodrive, where I also do some work around future technologies. It's amazing, because you can do all the things that you've loved as a kid. I thought that I wanted to be in the car all the time. I was in it the other day: just experiencing that thrill continues to excite me and knowing you can build that machine is absolutely amazing.
What does a typical day involve for you?
I can go from racing one of our electric race cars in Greenland and doing data analysis, writing reports, to doing driver coaching to improve their confidence and tell them which corners are going to give them the most performance from the car. The following week, I might be writing a paper to shape policy for future technologies. For example, how can we get more hydrogen cars built; or how can we get more sustainable fuels in cars? Or it can be delivering programmes for young people like Prospering Peckham, or helping people get jobs – it varies quite a bit.
What would be your advice to young people looking to pursue a career in engineering?
My biggest piece of advice would be to get some skin in the game. I like to say that, because a lot of times, we don't take too much risk. I've realised most of the things that I'm proud of have come from taking a risk, whether it was starting Motivez, interning at Rolls-Royce, or joining Formula Student.
For the things that interest you, try and find the smallest entry point. Before I started Motivez, I was tutoring kids. That was my way of serving the community. It could be so many different things, but I think generally speaking, it's about getting started and doing something that you're interested in.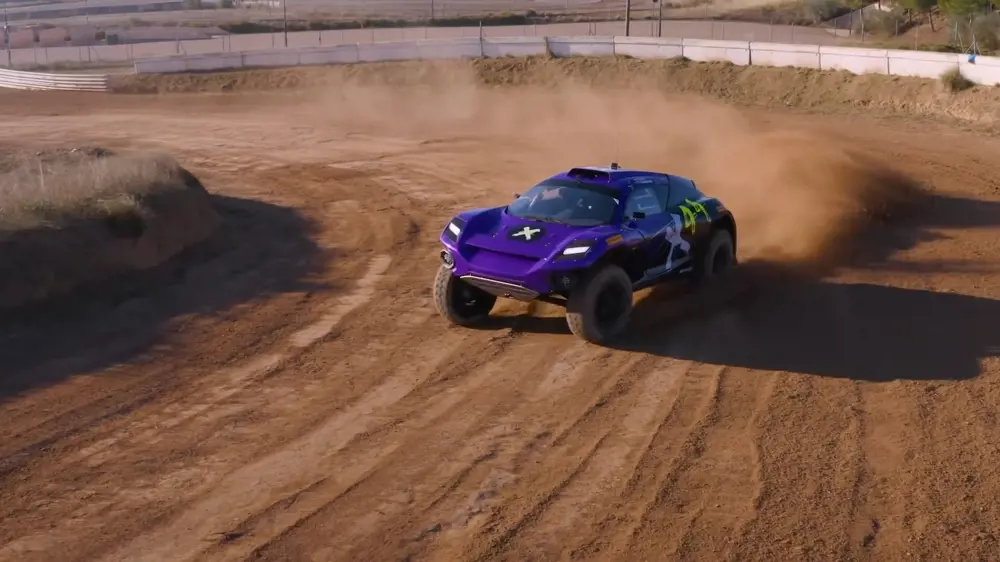 Quick-fire facts
Age: 
25
Qualifications: 
MEng, First Class Honours, mechanical engineering and programming
Most used technology: 
iPhone
Engineering Inspiration: 
It would have to be Annie Easley. She was one of the first African-Americans to work at NASA and a leading member of the team that developed software for the Centaur rocket stage. This helped lay the technological foundations for the space launches we witness today.
Three words that describe you:  
Love, practical, reliable
What's next for you?
My big focus is on Motivez and motorsport. Over the next three to five years, it's building Motivez up so we can continue to impact thousands of young people each year. We want to do that more meaningfully, and have more depth, in our delivery and how we can serve young people.
We're doing that in three ways: delivering programmes like Prospering Peckham [one of the 2022 Ingenious programmes, connecting 13- to 15-year-olds with local young engineering professionals]; helping people get jobs and setting up our recruitment arm. Then last is the advocacy piece, about making sure youth voices go as far and wide as possible, to help shape the policy of what future work should look like for them within STEM and make the industry a more equitable place.
And then for motorsport, it's very simple: win a championship! And advocate for more renewable technologies and make the future of motorsport more sustainable. How can we get more hydrogen in motorsport? How far can we go with electrifying motorsport? Similar to how we're trying to take responsibility to ensure that social mobility continues in STEM; I'd hope that there's some environmental responsibility within motorsport.
If I can push those two things and blaze the trail for young people that want to enter STEM or motorsport and don't see anyone within the industries that look like them – I hope that can be that person for a few years.
Keep up-to-date with Ingenia for free
Subscribe